Regular price
£0.00 GBP
Sale price
£85.00 GBP
Unit price
per
Sale
Sold out
Alba's classical design softly echoes the veins and swirls of natural marble, for an elegant and sophisticated aesthetic.
Request a Quotation

Not sure what sizes you'll need? We offer a free quotation service - all you need to do is provide us with a few details about your kitchen and our experts will provide a pre-populated basket. You'll also benefit from 60 days free technical support from the Maxtop Quartz experts!

Click this link to fill out a quotation request.

It'll open in a new tab - so you won't lose your place here! We aim to respond within 2 working days.

Materials

Maxtop Quartz is manufactured with a patented composite design and manufacturing method to provide high durability, lightweight ergonomics and waterproof qualities.

Maxtop is manufactured using a 10mm quartz surface on the top and sides with a 40mm square edge profile (pre-finished on all four sides with a 3mm bevel). 1mm glass fibre reinforcement on the underside of quartz.

23mm Lightweight honeycomb polypropylene core (for strength and weight reduction). 6mm PVC balancer on the underside for stability.

Shipping & Returns

Delivery to UK mainland will normally be within 5 days of order confirmation.

Deliveries with a value over £1000 will be free of charge to UK mainland only.

Confirmation of estimated time of delivery by text on the day prior to delivery.

Courtesy call from delivery team in advance of delivery.

Maxtop surfaces will be delivered to the nearest roadside to requested front entrance.

It is recommended that two people are available to carry Maxtop surfaces at all times, due to weight and size.

For special requests or other delivery information, please contact: enquiries@maxtopquartz.co.uk or call 0161 2492005.

Requests for collections for any reasons must be made within 24 hours of delivery by contacting: enquiries@maxtopquartz.co.uk or call 0161 2492005
Dimensions

Maxtop Quartz is available in two worktop sizes with the option of a further two different matching upstand sizes. Please see the illustrations below.
Care Instructions

Simply clean with warm water and mild detergent to keep Maxtop Quartz surfaces looking their best. To remove adhered material such as food, gum, nail polish or even dried paint, first, scrape away excess material with a plastic putty knife and then use a damp cloth to remove any marks or residual dirt.

Stains can occur on the surface of the material if fruit, tea or coffee etc. is not wiped away in good time. Stubborn surface stains can be removed with a paste of baking soda and water. If the stain is especially stubborn, cover the stain with the mixture and plastic wrap (e.g. an upturned plastic container to keep in place). Leave overnight and rinse with warm water in the morning and the stain should be lifted from the surface.

For an all-over deep cleaning of Maxtop Quartz, saturate with a spray-on glass cleaner and allow up to 10 minutes before wiping away with a wet cloth.
Share
View full details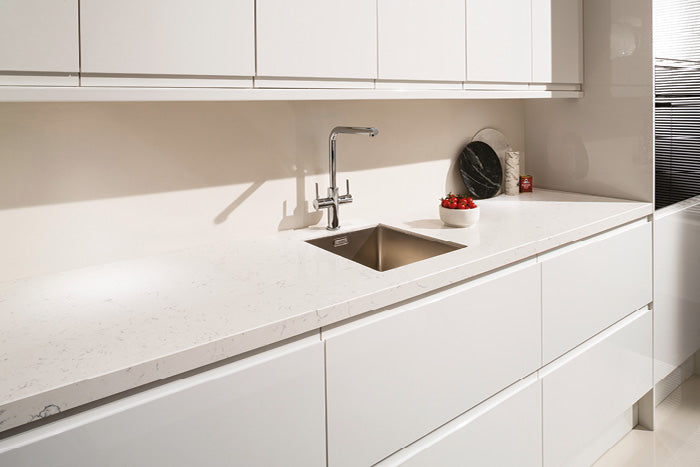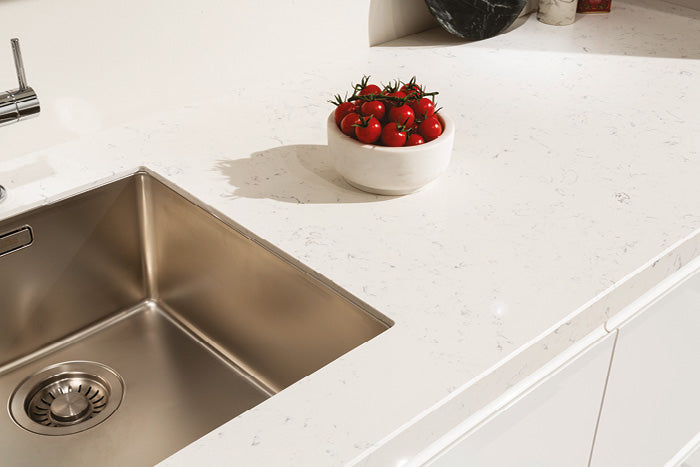 You might also need
Regular price

From £35.00 GBP

Regular price

£0.00 GBP

Sale price

From £35.00 GBP

Unit price

per

Regular price

Sale price

£28.00 GBP

Unit price

per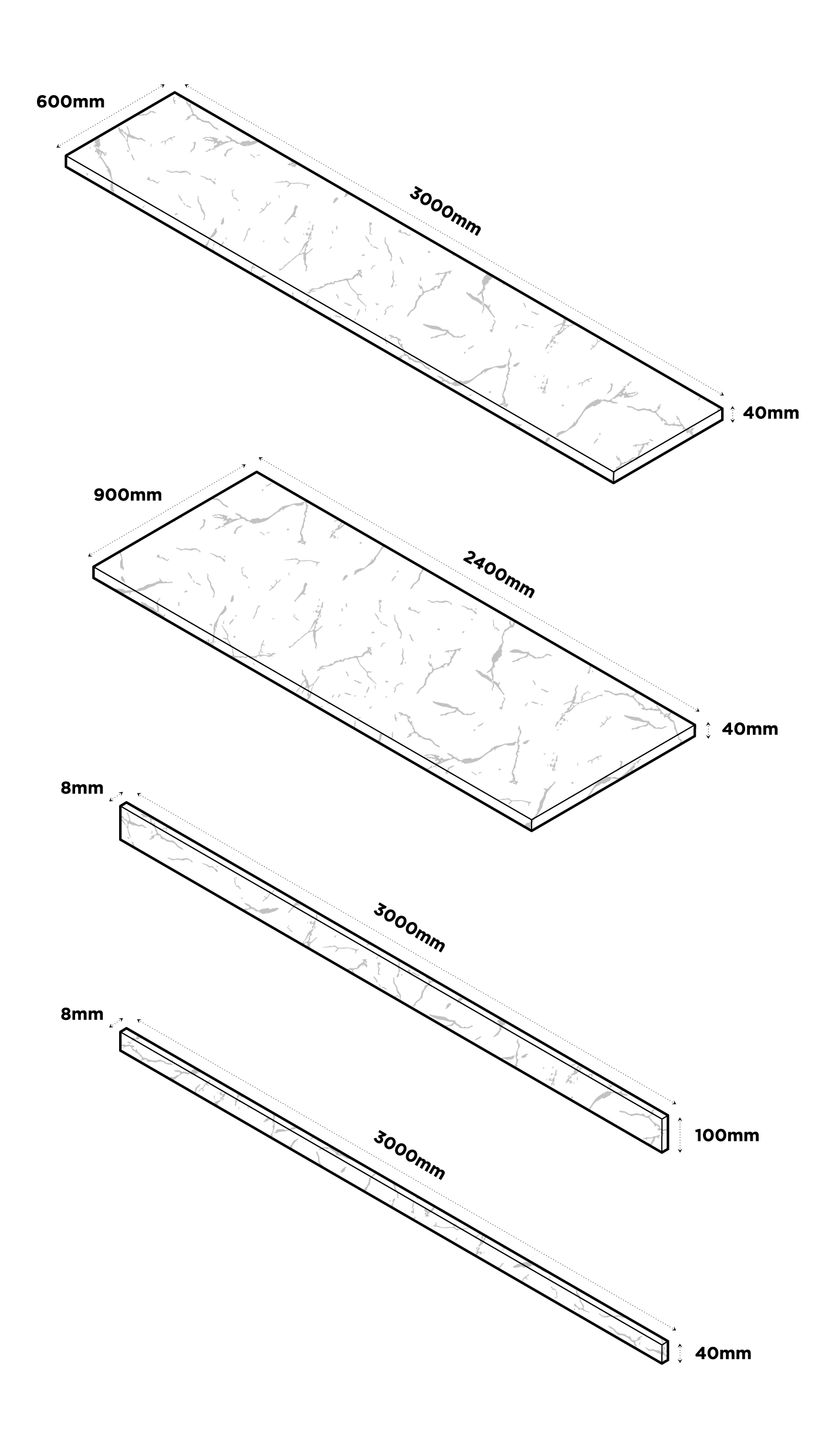 Sizes to suit your home
Both our worktops and upstands come in 2 dimensions:
100% waterproof

Maxtop Quartz is 100% waterproof and contains no timber-based materials.

Heat Resistant

Maxtop quartz has excellent heat
resistance but should not be considered heat proof.

Impact Resistant

Maxtop quartz has excellent impact strength and out performs solid stone due to its honeycomb centre.

Lightweight

Maxtop quartz is substantially lighter than traditional slab quartz.

Low Maintenance

Maxtop Quartz is low maintenance, and no sealing, waxing or special polishing is required, unlike other work surface materials.

Scratch Resistant

Maxtop Quartz has great resistance to scratches making it perfect for everyday use.

Stain Resistant

Maxtop Quartz is non-porous, so stain and odour-causing bacteria, mould and mildew cannot penetrate the surface.

Stylish

With a wide range of on-trend decors, Maxtop brings high-end style and enduring quality to your kitchen.